Ustedes Los Ricos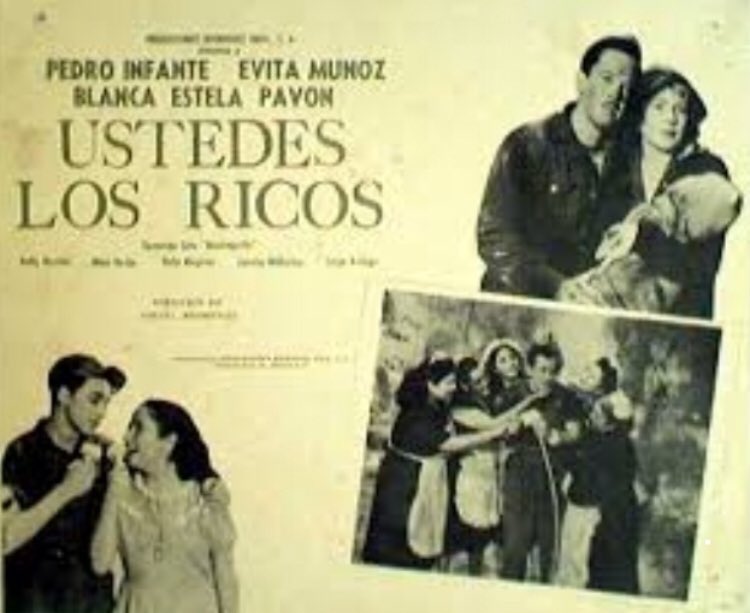 Ustedes los ricos (You the Rich)

is a 1948 Mexican film. The film is the second one in the first trilogy ever produced during the Golden Age of Mexican Cinema, starting with Nosotros Los Pobres

(We the Poor)

earlier in 1948, and followed by Pepe The Bull

(Pepe, el toro)

in 1953.

Ismael Rodriguez

directed all three films, with Pedro Infante

as Pepe the Bull and Evita Muñoz "Chachita"

as his daughter Chachita, while Blanca Estela Pavon

only appeared as Celia in the first two, as she died in a plane crash in 1949.
Ustedes los ricos

es una pelicula mexicana

de 1948. Es la segunda parte de la trilogía precedida por Nosotros Los Pobres
y seguida por Pepe El Toro
, donde sus actores principales siguen siendo:
Pedro Infante,
Evita Muñoz "Chachita" y
Blanca Estela Pavon
. Aparece un nuevo personaje: "El Ata", interpretado por Freddy Fernandez "El Pichi"
, llamado así por atarantado y que cinematográficamente se convierte en la pareja sentimental de "Chachita", al declararle su amor.
Reparto
Actores
Los Pobres
Pedro Infante

… Pepe "El Toro"

Evita Muñoz "Chachita"

… Chachita

Blanca Estela Pavon

… Celia

"La Romántica"

Fernando Soto "Mantequilla"

… Antonio Feliciano de la Rosa

"El Bracero"

Pedro de Urdimalas

…

"Topillos"

Ricardo Camacho …

"Planillas"

Delia Magaña

…

"La Tostada"

Amelia Wihelmy

…

"La Guayaba"

Alfredo "Freddy" Fernandez

…

"El Atarantado"

Jaime Jimenez Pons

-

"El Güíjolo"

Jorge Arriaga

- Ledo

"El Tuerto"

Jesús García -

"El Camellito"
Los Ricos
Nelly Montiel

- Andrea

"La Ambiciosa"

Miguel Manzano

- Manuel de la Colina y Bárcena

"El Mujeriego"

Mimi Derba

- Doña Charito

"La Millonaria"

Juan Pulido … Archibaldo

"El cínico"
Extras
Victor Mares ...

Policía

Emilio Girón Fernández de Jáuregui … "El Torito"
Ismael Rodriguez

… Transeunte

Humberto Rodríguez … Mayordomo

Socorro Avelar

.... Dependienta

José Muñoz

Hernán Vera

Emma Rodríguez

Leonor Gomez

.... Vecina

María Valdealde
Photo Gallery / Galeria Fotografica
Links / Enlaces
IMBd:
https://www.imdb.com/title/tt0040928/
FilmAffinity:
https://www.filmaffinity.com/mx/film707465.html
Rotten Tomatoes / Tomatazos:
https://www.rottentomatoes.com/m/ustedes-los-ricos