Jorge Salinas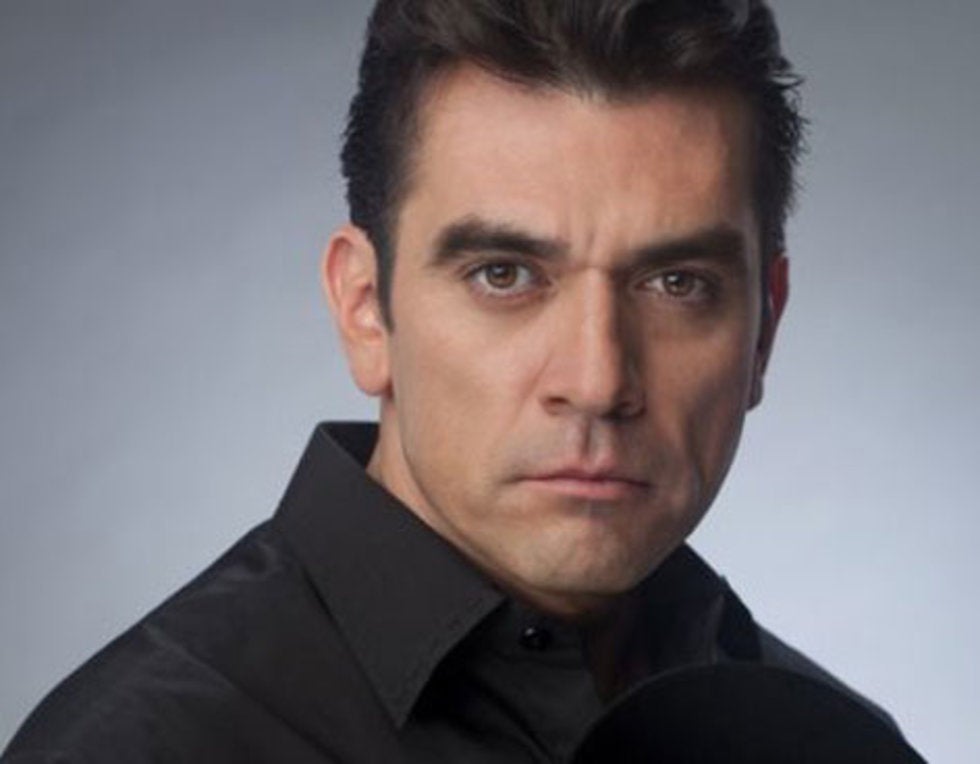 Jorge Salinas was born on July 27th, 1968 in Mexico City. He was enrolled in Centro de Educacion Artistica
(CEA) in 1990 and after finishing his studies, he received his first opportunity in the telenovela

Valeria y Maximiliano. He also appeared in

El abuelo y yo

in

1991,

Mágica juventud

in

1992, Dos Mujeres, Un Camino

in

1993 and Maria Isabel

in

1997.
In 1999, Jorge Salinas starred in Sexo, Pudor y Lagrimas
and in 2000 in the film Amores Perros.
Salinas played leading roles in the Novelas: Tres Mujeres, Mi Destino Eres Tu, Las Vias del Amor, Mariana de Noche and La Esposa Virgen.
In 2008, Salinas was one of the leading actors of the successful telenovela Fuego En La Sangre, where he shared credits with Adela Noriega
and Eduardo Yañez. In 2011, he starred in La Que No Podia Amar

as the lead Rogelio Montero Baez.
In 2012, producer Salvador Mejía Alexandre cast Salinas in the starring role in Que Bonito Amor.
In 2014, Salinas starred in the telenovela
Mi corazon es tuyo

(My Heart is Yours). This won the best novela of the year. He played the protagonist, alongside Silvia Navarro and Mayrin Villanueva.
In 2017, Salinas starred with Cesar Evora
in the stage production of

Variaciones Enigmáticas, written by Eric-Emmanuel Schmitt.
Jorge Salinas nació en Ciudad de México el 27 de Julio de 1968. Es un actor mexicano de televisión, cine y teatro.
La primera participación de Jorge Salinas en las telenovelas, fue en 1991 en la telenovela Cadenas de Amargura al lado de Daniela Castro y Raúl Araiza. A partir de entonces ha participado en docenas de producciones, siendo la más reciente en 2020 en Te Doy La Vida con Eva Cedeno y José Ron.
Films
* Como cualquier noche (1992)
* ¡Engañame!, si quieres (1998) - Sr. Gómez
* Sexo, Pudor y Lagrimas (1999) - Miguel
* Amores Perros (2000) - Luis
* La Hija del Canibal (2003) - Security guard
* La Otra Famiia (2011) - Jean PaulNom
* Labios rojos (2011) - Ricardo
* Mi Pequeño Gran Hombre (2018) - Leon Godoy
Television
* Cadenas de Amargura (1991) - Roberto
* Valeria y Maximilano (1991) - Damián Souberville
* El Abuelo y Yo (1992) - Ernesto
* Mágica juventud (1992) - Héctor
* Dos Mujeres, Un Camino (1993) - Ángel
* Morelia (1995) - Beto Solorzano
* Canción de amor (1996) - Damián
* Mi querida Isabel (1996) - Alejandro
* Mujer, Casos De La Vida Real (1996) Episodes: "El Amor, Siempre es el Amor", "Hermanas"
* Maria Isabel (1997) - Ruben
* Tres Mujeres (1999) - Sebastián Méndez
* Mi Destino Eres Tu (2000) - Eduardo Rivadeneira Del Encino
* Atrevete a Olvidarme (2001) -Daniel González
* Las Vias del Amor (2002) - Gabriel Quesada Barragán
* Mariana de La Noche (2003) - Ignacio Montenegro Vargas
* La Esposa Virgen (2005) - José Guadalupe Cruz
* La Fea Mas Bella (2006) - Rolando "Ruli"
* Fuego En La Sangre (2008) - Óscar Robles Reyes
* La Que No Podia Amar (2011) - Rogelio Montero Baez
* Que Bonito Amor (2012) - Santos Martínez de la Garza
* Mi Corazon Es Tuyo (2014) - Fernando Lascurain Borbolla
* Pasion y Poder (2015) - Arturo Montenegro Rivas
* Un Poquito Tuyo (2019) - Antonio Solano Díaz
* Te Doy La Vida (2020) - Ernesto Rioja Armida