Angelica Aragon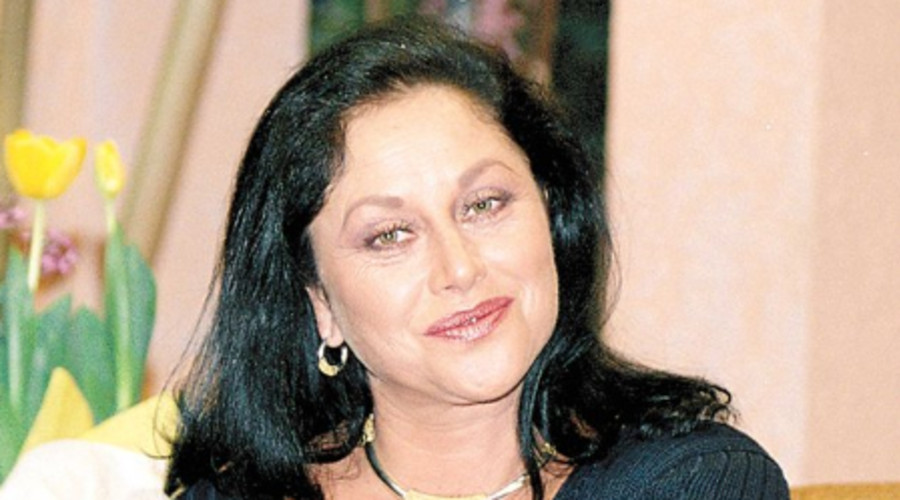 Angelica Aragon was born on July 11th, 1953 in Mexico City.Angelica emigrated to United Kingdom where he studied theater, dance and pantomime for seven years at the London Academy of Music and Dramatic Art
(LAMDA) and at the London School of Contemporary Dance

while

also performing in London, she enrolled at the University of London

where she studied Philosophy of India, History and Languages. Aragón speaks seven languages: Spanish. English, French, Italian, Portuguese, Bengali and Japanese.

As a theater student, Angelica worked for five years at the National Theatre

in London.
Angelica traveled to India
and

got into Kerala Kalamandalam, one of the most important ritual dance schools in India, participating in plays of the Kathakali

theater.
Returning to Mexico in 1980, Angelica Aragón started performing in telenovelas for Televisa such as Sandra y Paulina, starring Jacqueline Andere, El Hogar Que Yo Robe, with Angelica Maria, and Vanessa
with Lucia Mendez. In 1983 she stared

in the popular children's telenovela Chispita. In 1984 she made La Fiera, next to Victoria Ruffo and Principessa.
In 1985, Valentín Pimstein gives Aragón the starring role in the telenovela Vivir Un Poco, as
Andrea, a woman unjustly accused of murder and imprisoned for twenty years in a prison in Argentina.
In 1989 she stared in La Casa Al Final De La Calle, co-starring Hector Bonilla and Leticia Calderon, directed by Jorge Fons.
In 1990 Aragón stars in the telenovela Dias Sin Luna, along Sergio Goyri, where she interprets to a painter with a terminal illness. Also performs a special performance in the telenovela En Carne Propia, production of Carlos Téllez, with Edith Gonzalez
and Gonzalo Vega.
In 1992 Aragones was invited to be Dialog Director in the telenovela Madres Egoistas. In that same year, she played "Chole", an indigenous Zapoteca
woman in the telenovela De Frente Al Sol, produced by Carla Estrada, co-starring Maria Sorte. There was also a sequel entitled: Mas Alla del Puente.
In 1996, Aragón participates in the telenovela Cañaveral de Pasiones, produced by Humberto Zurita
and Christian Bach

and starring Daniela Castro

and Juan Soler.
In 1997, she stared in
Mirada de mujer. The story of

María Inés Domínguez, a mature woman in love with a younger man, brings to Aragón the greatest success of her television career, sharing credits with Ari Telch, Fernando Lujan, Margarita Gralia, and Evangelina Elizondo.
Filmography
TV
El Amor Tiene Cara de Mujer (1971)

El Hogar Que Yo Robe (1981)-

Genoveva Velarde

Vanessa (1982) -

Alejandra / Luisa

Chispita (1982) -

Lucía

La Fiera (1983) -

La Costeña

Principessa (1984) -

Fernanda

Vivir Un Poco (1985) -

Andrea Santos

La Casa Al Final de la Calle

(1989) -

Leonor Altamirano Nájera

Dias Sin Luna

(1990) -

Lucía

En Carne Propia

(1990) -

Magdalena Dumont de Muriel

De Frente Al Sol

(1992) -

Chole

Mas Alla del Puente

(1993) -

Chole

Agujetas de Color de Rosa

(1995) -

Bertha

Cañaveral de Pasiones

(1996) -

Josefina Rosales Vda. de Montero

Mirada de Mujer

(1997) -

María Inés Domínguez

Todo por amor

(2000)

Carmen Dávila

Mirada de Mujer, El Regreso

(2003) -

María Inés Domínguez

Ni Una Vez Mas (2006)

Gregoria la Cucaracha (2009)

A Corazon Abierto (2011)

MotherFatherSon (2019) - Veronica

Desenfrenadas (2020) - Juana

The Casagrandes (2020) - Mama Lupe

Selena: La Serie (2020)

Blowers (2022) - Violeta

El último rey (2022) - Dalia Muñoz
Films
United States of America
The Evil that Men Do (1984) -

María

Toy Soldiers (1984) -

Presidenta López

Samson and Delilah

(1984) -

Niji

Dune (1984) -

Bene Gesserit Sister

The Harvest (1993) -

Dr. Emma

A Walk In The Clouds

(1995) -

María José Aragón

Picking Up The Pieces

(2000) -

Dolores

Dirty Dancing: Havana Nights

(2004) -

Mrs. Suárez

Bella (2006) -

José's Mother

Looking for Palladin

(2009) -

Helen

From Mexico With Love (2009) -

Rosa Villa

Sons of Monarchs (2020) - Doña Lola
Mexico

Los dos frailes

(1986)

Lamberto Quintero

(1987) -

María de los Ángeles

La furia de un dios

(1988)

Sabor a Mí

(1988)

Goitia: un dios para si mismo

(1989)

Pueblo de madera

(1990) -

Corner shop owner

Gertrudis (1992) -

Pilar Molina

Novia que te vea

(1994) -

Sarica Mataraso

La señorita

(1994)

Ámbar

(1994) -

Armandina

En el aire

(1995) -

Teresa

Sucesos distantes

(1996) -

Irene Gorenko

Pensamientos

(1996) -

Flor

De muerte natural

(1996) -

Nicolasa

Cilantro y perejil

(1997) -

Teresa

Fibra óptica

(1998) -

Doña Carmen

Sexo, Pudor y Lagrimas (1999) -

Carlos' Mother

Entre la tarde y la noche

(2000) -

Minerva

Crónica de un desayuno

(2000) -

Estela

El grito

(2000) -

Blanca

¿Y si Cristobal despierta?

(2000) -

Mariana

El Crimen del Padre Amaro (2002) -

Agustina Sanjuanera

Desnudos

(2004) -

Diana's mother

La Mujer de mi Hermano (2005) - Cristina

Cañitas: Presencia

(2007) - Doña Elvia

La Virgen Negra (2008) - Lurdita

Todos hemos pecado

(2009) - Woman in love

Recién cazado

(2009) - Sebastián's mother

El atentado

(2010) - Aunt Avelina

Tequila

(2011) -

Remedios

Cinco de Mayo: La Batalla

(2013) -

Doña Soledad

Todos están muertos

(2014)-

Paquita

Alicia en el país de María

(2014)-

Reyna

Elvira te daría mi vida pero la estoy usando

(2015) -

Elvira's mother

Estar o no estar

(2015) -

Matrushka

Treintona, soltera y fantástica

(2016) -

Catalina

Mr. Pig (2016) -

Chila

Fragmentos de Amor (2016) - Carmen

La Prima (2018)

Polvo (2019) - Doña Mary

Un Sentimiento Honesto en el Calabozo del Olvido (2019)

Los Trapos Sucios se Lavan en Casa (2021)

Los Habitantes (2021) - Ramona

El Aguila y El Gusano (2022) - Madame Parodi

Infelices Para Siempre (2022) - Abuela

Sexo, Pudor y Lagrimas 2 (2022) - Carlos' Mother
Peru
No Me Digas Solterona (2018) -

Tencha

No Me Digas Solterona 2 (2020) - Tencha
Photo Gallery / Galeria Fotografica