Julian Gil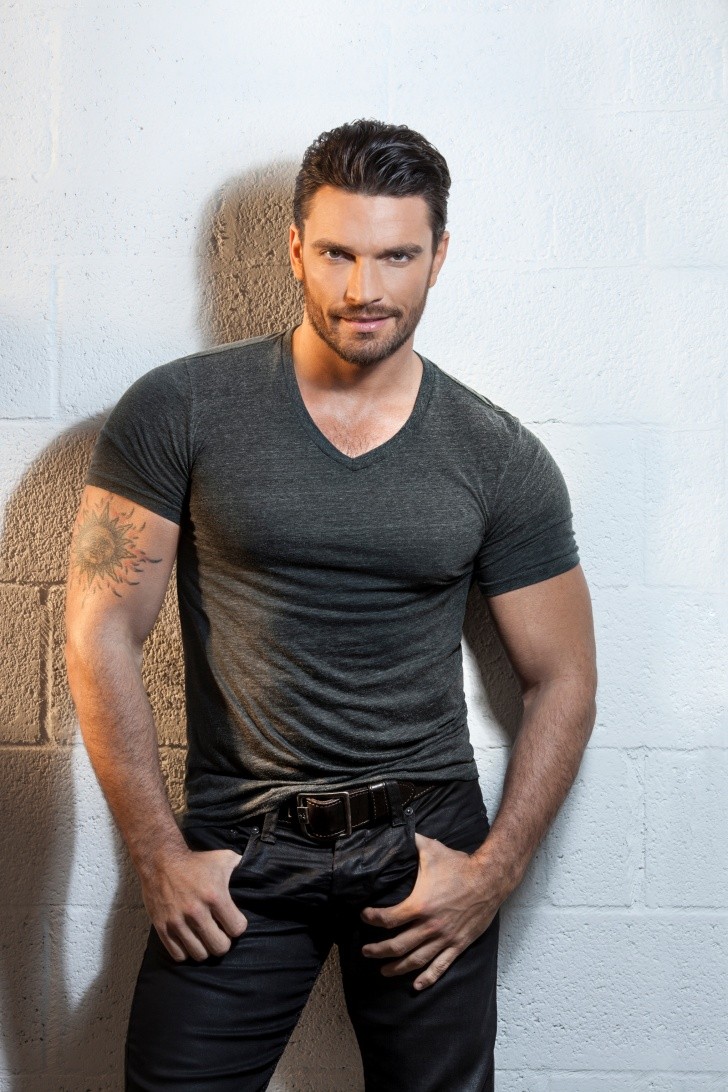 Julián Gil Beltrán was born on June 13, 1970.He is an Argentine-born Puerto Rican actor, model, businessman and TV host. He lives in Mexico City and Miami, Florida.
At the age of 20, he began his career in television with his own shows Julián por la noche and Apartamento 52, being the host for both television shows. Over the years he has worked for television networks such as: RCTV, Telemundo, Univision and Televisa.
In 2006, he participated in the Venezuelan telenovela
Por todo lo alto, where he interpreted the character "Halcón", which helped to internationalize.

The following year he joined the cast of the telenovela produced by Venevision

and Univision

entitled Acorralada, where he played Pancholón.
From 2007 until 2011, Gil was part of the jury
Nuestra Belleza Latina, where he shared credits with Osmel Sousa.

In 2008 he participated in: Valeria, at the same time he obtained his first antagonist role on television in the telenovela Amor Comprado

where he played Esteban Rondero.

Then he participated in the television series

Gabriel, along with Chayane.
In 2008 he obtained his first starring role in the telenovela
Los Barriga. He starred besides

Claudia Bérninzon.
In 2009 he participated in the telenovela Sortilegio. In the same year he became the protagonist of the Spain series Valientes. That year he won the Califa de Oro Award for Best Actor.
In May 2015, Gil officially replaced Fernando Fiore
as host of: Republica Deportiva.
In 2015 he starred with Guy Ecker
in Miller Lite's "Rivales" ad campaign.
Julián Gil nació en Buenos Aires, Argentina el 13 de Juniode 1970. Es un actor, modelo, empresario argentino que reside entre Ciudad de México y Miami, Florida.
A principio de la década de los noventa incursionó en el modelaje. Para los años 90's comenzó a participar en la actuación, en teatro, cine y televisión en Puerto Rico. Se inició en el teatro con la obra "Por el medio si no hay remedio" en 19 95 en Puerto Rico, después vinieron otras obras como: "El crimen del Padre Amaro", "Sexo, pudor y lágrimas" y "Nueve semanas y media" junto a Luisa de los Rios, entre otras. En 2004 consiguió el récord mundial Guiness al conducir el programa Apartamento 52 durante 32 horas consecutivas.
Es dueño de la empresa La Marca Gil, la subdivisión G/3 Beauty y es copropietario de la compañía Carson Life. También es fundador del evento 'Fiestas de la Calle Miami'.
Filmography
Films
* Marina

(2001) -

John
* Más allá del límite (2002) - Boxer
* La caja de problemas (2004) - Gardener
* Fuego en el Alma (2005) - Millo
* El milagro de Coromoto (2006) - Jaime
* Historias Delirantes (2008)
* Entre piernas (2010) - Paco
* Lotoman 003 (2014) - El Boricua
* Misterio's: Llamas de sueños (2014) - Leonardo Aguilar
* Loki 7 (2016) - Rodrigo
* Santiago Apóstol (2017) - Santiago Apóstol
Telenovelas
* Mi conciencia y yo (2002) - Alfonso
* La caja de problemas (2004) - Gardener
* Por todo lo alto (2006) - Halcón
* Acorralada (2007) - Pancho "Pancholón"
* Isla Paraiso (2007) - Armando
* Mi adorada Malena (2007) - Mateo
* Valeria (2008) - Daniel Ferrari
* Amor COmprado (2008) - Esteban Rondero
* Los Barriga (2008) - Francesco Cezanne
* Gabriel (2008) - Dr. Bernardo Padrón
* Perdóname padre porque he pecado (2008)
* Libranos de nuestros enemigos (2008)
* El último amanecer (2009)
* Sortilegio (2009) - Fernando
* Valientes (2009) - Leo Soto
* Eva Luna (2010) - Leonardo "Leo" Arisméndi
* La que No Podia Amar (2011) - Bruno Rey
* ¿Quien Eres Tu? - Felipe Esquivel
* Los Secretos de Lucia (2013) - Robert Neville
* Hasta el Fin del Mundo (2014) - Patricio Iturbide
* Sueño de Amor (2016) - Ernesto de la Colina
* Por Amar Sin Ley (2018) - Carlos Ibarra
Photo Gallery / Galeria Fotografica
Links / Enlaces
InstaGram:
https://www.instagram.com/juliangil/
Twitter:
https://twitter.com/juliangil
FaceBook:
https://www.facebook.com/jjjgil